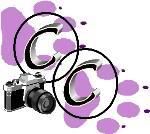 This is my first time joining in with
Misty Dawn's Camera Critters
. Sundays are usually reserved for One Single Impression - and I will probably post that in the morning - but Angel (aka the world's naughtiest kitty) has been exceptionally photogenic this week. She is always photogenic but she has outdone herself (at least to my doting eyes), so I thought I'd post some pictures of her.
This first one is a bit older than the rest. Most days since I got my new camera, I sit at the back door and watch for birds and critters to photograph. Angel thinks this is bizarre behavior and doesn't approve of anything which she doesn't get to participate in. Early on, she would walk around crying, jump up onto my back or into my arms (she still does that) or find her way onto the top of the refrigerator from where she would make her dismay at my behavior clear.
Over the course of a couple of months she has mellowed considerably about the process. Not completely - she still jumps into my lap and fusses on and off - but now she will often lie on the table next to me and only act up intermittently. As long as she gets a little attention from time to time, she seems to have made peace with my new strange activity. Some days I turn the camera on her. Some days she lets me do that.
Have a lovely day!
Check in at
Camera Critters
and see all the other wonderful critters who are out there.